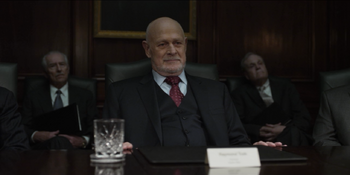 The Fifth Amendment (Amendment V) to the United States Constitution is part of the Bill of Rights and protects against abuse of government authority.
The Fifth Amendment requires that felonies be tried only upon indictment by a grand jury. It also guarantees the right against self-incrimination and the right to be tried only once in federal court for the same offence ("double jeopardy").
Text
No person shall be held to answer for a capital, or otherwise infamous crime, unless on a presentment or indictment of a Grand Jury, except in cases arising in the land or naval forces, or in the Militia, when in actual service in time of War or public danger; nor shall any person be subject for the same offense to be twice put in jeopardy of life or limb; nor shall be compelled in any criminal case to be a witness against himself, nor be deprived of life, liberty, or property, without due process of law; nor shall private property be taken for public use, without just compensation.
Self-incrimination
The Fifth Amendment protects individuals from being forced to incriminate themselves. Incriminating oneself is defined as exposing oneself (or another person) to "an accusation or charge of crime," or as involving oneself (or another person) "in a criminal prosecution or the danger thereof". The privilege against compelled self-incrimination is defined as "the constitutional right of a person to refuse to answer questions or otherwise give testimony against himself or herself. To "plead the Fifth" is to refuse to answer any question because "the implications of the question, in the setting in which it is asked" lead a claimant to possess a "reasonable cause to apprehend danger from a direct answer", believing that "a responsive answer to the question or an explanation of why it cannot be answered might be dangerous because injurious disclosure could result.
Trivia
Raymond Tusk invokes this amendment in order to avoid incriminating himself in front of the Judiciary Committee, which is to say that he refuses to answer on the grounds that he may not "be compelled in any criminal case to be a witness against himself".]
Ad blocker interference detected!
Wikia is a free-to-use site that makes money from advertising. We have a modified experience for viewers using ad blockers

Wikia is not accessible if you've made further modifications. Remove the custom ad blocker rule(s) and the page will load as expected.