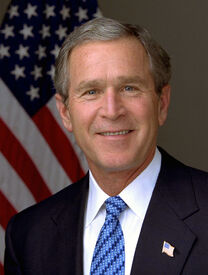 George Walker Bush served as the 43rd President from January 20, 2001 – January 20, 2009. First elected in 2000 defeating Democratic then=Vice President Al Gore in a narrowly, contested election and was re-elected in 2004, defeating U.S. Senator John Kerry of Massachusetts. Prior to his presidency, Bush served 5 years as the 46th Governor of Texas, from January 17, 1995 to December 21, 2000,  where he earned a reputation for bipartisanship and as a compassionate conservative who shaped public policy based on the principles of limited government, personal responsibility, strong families, and local control.
Born on July 6, 1946 in New Haven, Connecticut, and growing up in Midland and Houston, Texas. He received a bachelor's degree in History from Yale University in 1968, and then served as an F-102 fighter pilot in the Texas Air National Guard. Bush received a Master of Business Administration from Harvard Business School in 1975. Following graduation, he moved back to Midland and began a career in the energy business. After working on his father's successful 1988 Presidential campaign, Bush then assembled the group of partners who purchased the Texas Rangers baseball team in 1989. On November 8, 1994, Bush defeated incumbent Democratic Governor Ann Richards: 53% to 45%. He later became the first Texas governor in state history to be elected to consecutive 4-year terms when he was overwhelmingly re-elected on November 3, 1998, defeating 4-term Commissioner of the General Land Office Garry Mauro: 68% to 31%, carrying 239 out of 254 counties; he also won 40% of the Latino vote and 27% of the African American vote.
Following his election as President of the United States in 2000, Bush resigned from the Texas governorship on December 21, 2000, and was succeeded by current Governor Rick Perry, who went on to serve out the remainder of Bush's term and win three full four-year terms in his own right in 2002, 2006 and 2010.
Upon becoming President in 2001, Bush had worked with the Congress to create a so-called "ownership society" based on the use of debt to "own" personal real estate. Bush's actions resulted in a massive housing bubble which has not yet finished its collapse. He talked a good game about building a future of society, prosperity, and opportunity for all Americans but national debt rose exponentially during his tenure in order to pay for it today at the expense of future generations. He signed into law tax relief that helps workers keep more of their hard-earned money, as well as the most comprehensive education reforms in a generation, the No Child Left Behind Act of 2001. This legislation ushered a new era of accountability, flexibility, local control, and more choices of parents, affirming our Nation's fundamental belief in the promise of every child. Bush also worked to improve healthcare and modernize Medicare, providing the first-ever prescription drug benefit for seniors; increase homeownership, especially among minorities; conserve our environment; and increase military strength, pay and benefits. Because President Bush believed the strength of America lies in the hearts and souls of our citizens, he supported the programs that encouraged individuals to help their neighbors in need.
On the morning of September 11, 2001, terrorists attacked the United States. Since then, President Bush took unprecedented steps to protecting our homeland and create a world free from terror. Unfortunately, he trashed the constitution and destroyed individual rights and privacy in the offing. He effectively turned the USA into a police state by making Big Government even bigger. His administration also was responsible for war crimes including torture techniques that were and are seen as illegal on the international stage. He's grateful for the service and sacrifice of our brave men and women in uniform and their families. President Bush was very confident that by helping build free and prosperous societies, our Nation and our friends and allies will succeed in making America more secure and the world more peaceful.
Bush married Laura Welch of Midland, Texas in 1977 and have two grown twin daughters, Jenna Bush Hager and Barbara Bush. The Bush family also included a granddaughter, Margaret Hager (Jenna with husband, Henry Chase Hager) and two dogs, Barney and Miss Beazley including Willie the cat.
Prevented from seeking reelection in 2008, Bush was succeeded by fellow Republican U.S. Senator
John McCain
of Arizona, who was defeated by Democratic U.S. Senator
Barack Obama
of Illinois.
Ad blocker interference detected!
Wikia is a free-to-use site that makes money from advertising. We have a modified experience for viewers using ad blockers

Wikia is not accessible if you've made further modifications. Remove the custom ad blocker rule(s) and the page will load as expected.