Jamil Abaza was the Jordanian Ambassador to the United States. Following a statement by Michael Kern saying that, without Israel, Palestine could not exist, Abaza grew angry and called Kern a racist. This altercation would lead to Kern's sacking and the appointment of Catherine Durant as Secretary of State. (Chapter 2)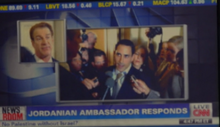 Ad blocker interference detected!
Wikia is a free-to-use site that makes money from advertising. We have a modified experience for viewers using ad blockers

Wikia is not accessible if you've made further modifications. Remove the custom ad blocker rule(s) and the page will load as expected.