Nick Henslow is a reporter for The Sun and a member of the Vice-President's press corps.
Biography
Season 2
Along with Ayla Sayyad, Henslow volunteered to go to Spottsylvania to report on Frank Underwood's visit to a Civil War reenactment, although he found it was an extremely boring task.(Chapter 18) Later, he was sent to Freddy's BBQ Joint to interview Freddy Hayes. This article was seen by Tommy Devine, who saw a business opportunity in expanding Freddy's.(Chapter 20) When Claire Underwood's affair with Adam Galloway became public, Henslow covered the Underwood's press conference, suspicious as to why the Underwood's had taken all day to respond to the press. Sayyad, however, thought the whole scandal was unimportant, and that there was a bigger story that was being covered up.(Chapter 22)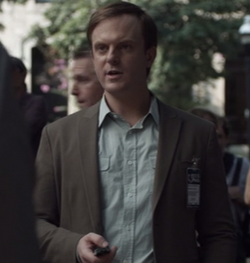 Behind the Scenes
Henslow is portrayed by Jeremy Bobb in Season 2.
Ad blocker interference detected!
Wikia is a free-to-use site that makes money from advertising. We have a modified experience for viewers using ad blockers

Wikia is not accessible if you've made further modifications. Remove the custom ad blocker rule(s) and the page will load as expected.