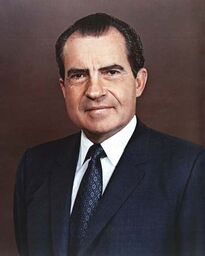 Richard Milhous Nixon was the 37th President of the United States, serving from 1969 to 1974 when he became the first U.S. president to resign the office, as a result of the Watergate scandal.
Born: January 9, 1913, Yorba Linda, CA
Died: April 22, 1994, New York City, NY
Presidential term: January 20, 1969 – August 9, 1974
Party: Republican Party
Vice presidents: Spiro Agnew (1969–1973), Gerald Ford (1973–1974)
Ad blocker interference detected!
Wikia is a free-to-use site that makes money from advertising. We have a modified experience for viewers using ad blockers

Wikia is not accessible if you've made further modifications. Remove the custom ad blocker rule(s) and the page will load as expected.