Slugline is a web-based newspaper, with HQ in Washington, D.C. Its most important representative is definitely Zoe Barnes, who moved from Washington Herald, because of being fired there. Its current CEO is Carly Heath.
After Barnes' death and Skorsky's move to her mother, Slugline is being mentioned only once again - when reporting on the rumors regarding a breakup between Frank and Claire in Season 4.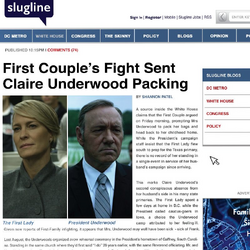 Ad blocker interference detected!
Wikia is a free-to-use site that makes money from advertising. We have a modified experience for viewers using ad blockers

Wikia is not accessible if you've made further modifications. Remove the custom ad blocker rule(s) and the page will load as expected.