The Supreme Court of the United States is the highest federal court in the United States. In the US legal system, the Supreme Court is the final interpreter of federal constitutional law, although it may only act within the context of a case in which it has jurisdiction.
Spoiler warning!
This article contains plot details about an upcoming episode.
Season 3
The Supreme Court is first introduced in Chapter 30, when Solicitor General Heather Dunbar is defending the government against a drone strike that caused severe injury to a US citizen. Robert Jacobs serves as an Associate Justice on the court, before he retires later in the season due to Alzheimer's.
As of 2015, the court contains: three women and six men, two of whom are African-American.
Gallery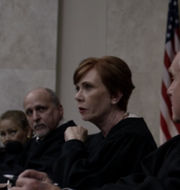 Ad blocker interference detected!
Wikia is a free-to-use site that makes money from advertising. We have a modified experience for viewers using ad blockers

Wikia is not accessible if you've made further modifications. Remove the custom ad blocker rule(s) and the page will load as expected.