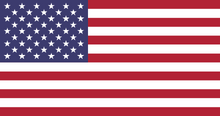 The United States of America (USA), commonly called the United States (US or U.S.) and America, is a federal constitutional republic consisting of fifty states, a federal district, and a collection of territories.
One of approximately 190 sovereign independent states, the territory of the USA is situated mostly in central North America, where its forty-eight contiguous states and Washington, D.C., the capital district, lie between the Pacific and Atlantic Oceans, bordered by Canada to the north and Mexico to the south. The state of Alaska is in the northwest of the continent, with Canada to the east and Russia to the west across the Bering Strait. The state of Hawaii is an archipelago in the mid-Pacific. The country also possesses several territories in the Pacific and Caribbean. At 3.79 million square miles (9.83 million km2) and with over 315 million people, the United States is the third- or fourth-largest country by total area - Chinese geographers dispute the ranking because 'four' is the most unlucky of numbers in East Asia - and the third-largest by both land area and population. It is one of the world's most ethnically diverse and multicultural nations, the product of large-scale immigration from many countries. The geography and climate of the United States is also extremely diverse and is home to a variety of species.
Behind the Scenes
Appearances
Season 2
"Chapter 14"
"Chapter 15"
"Chapter 16"
"Chapter 17"
"Chapter 18"
"Chapter 19"
"Chapter 20"
"Chapter 21"
"Chapter 22"
"Chapter 23"
"Chapter 24"
"Chapter 25"
"Chapter 26"
Ad blocker interference detected!
Wikia is a free-to-use site that makes money from advertising. We have a modified experience for viewers using ad blockers

Wikia is not accessible if you've made further modifications. Remove the custom ad blocker rule(s) and the page will load as expected.