The Wall Street Telegraph is the second largest daily newspaper in the United States. It headquarters are in New York City, New York. It has an overseas bureau in London, England.
Season 2
The Telegraph is represented by
Ayla Sayyad
as part of a press pool trailing Vice President
Frank Underwood
in Spotsylvania County, VA.
The Wall Street Telegraph later reports on the Chinese government's involvement with the Port Jefferson Bridge linking Port Jefferson, New York and Milford, Connecticut over the Long Island Sound — a project of major importance to the President's domestic agenda — which the U.S. government's Committee on Foreign Investment had been planning to let a Chinese company build in return for a 25-year toll collecting contract. Once the report reaches China, the Chinese press immediately connects the leak with Xander Feng.
Season 3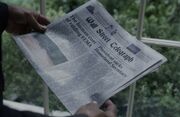 The Telegraph's White House Correspondent
Ayla Sayyad
is removed after antagonizing
Frank Underwood
about his stance of gay rights. The Telegraph proceeds to publish articles regarding both the President used
FEMA
money to fund
America Works
and how he fired Homeland Security Secretary
Steven Travers
for objecting to the potentially illegal plan. The newspapers senior management refuses to publish an article detailing the tyrannical leadership of
Frank Underwood
written by
Kate Baldwin
, claiming it is too opinionated and not in line with its usual reporting.
Trivia
Ad blocker interference detected!
Wikia is a free-to-use site that makes money from advertising. We have a modified experience for viewers using ad blockers

Wikia is not accessible if you've made further modifications. Remove the custom ad blocker rule(s) and the page will load as expected.